Hey student!
Here are 5 advanced English books you MUST absolutely use in your practice! Of course, you should use these advanced books in moderation and I will explain how to do that with each suggestion.
I will also leave some links where you can get those books 🙂
Longman Dictionary of Common Errors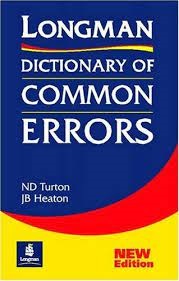 This is an excellent Advanced English book for you to use on our journey to English fluency. If you need an advanced English book to show you references of common mistakes we, non-native speakers, tend to make in spoken and written language.
If you want to get this book, here are some links:
Brazil: https://amzn.to/3m6XBVk
Other countries: https://amzn.to/3EXSsGd
INNERCISE – The New Science To Unlock Your Brain's Hidden Power
In my method, I combine brain and language strategies to help English learners advance their English and finally be able to talk to anyone anywhere anytime in English. If you are interested in learning how to deal with your emotions in a practical way, this book will bring you different brain exercises to help you expand your mind and eliminate your fears. In my online program, I offer different brain exercises to my students (NLP – neurolinguistic programming). But this is definitely an incredible tool you should have. You will work on the brain and at the same time work on your English.
Get the book here:
Brasil: https://amzn.to/3GKH0OL
Other countries: https://amzn.to/33wCMvY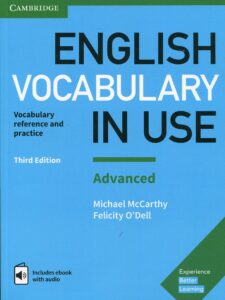 English Vocabulary in Use (Advanced)
Well, if you are looking to step up your vocabulary game, this is an excellent advanced book. I myself have been using it (in fact, I have and use all the books being recommended in this post). But here is the catch: don't exaggerate! You don't need to do all the lessons in sequence or every single exercise. The idea is to use this advanced English book as a consultation book. You can learn the new words and then try creating your own examples. When you become an advanced speaker, you need to be very clear in your communication, this book will give you ideas of new words to study, but remember, use what you learn.
Get the book here:
Brazil: https://amzn.to/3oYznhS
Other countries: https://amzn.to/33kDCM3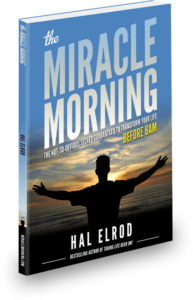 The Miracle Morning
In addition to English lessons, you need to challenge your reading level. But I don't like to stop at the language aspect. In this book, you will be learning about establishing routines and developing (or strengthening) your discipline. To advance your English, establishing habits and becoming a disciplined student are vital skills. And only learning English lessons will not teach you that. You need to learn other important lessons and this book will show you a lot of them. This definitely an advanced English book that will help you step up your game.
As I said before, this book is in English (well, you should get this book in English) That way you will be improving your English and learning about discipline and habits.
Get the book here:
Brazil: https://amzn.to/3E4c5vi
Other countries: https://amzn.to/3m6cEhT
Advanced Grammar in Use
This is definitely a very important advanced English book to help you work on your English grammar. However, there are a lot of lessons and if you want to advance your English, you should not spend all your time on grammar alone. You need to combine the different English skills if you want to achieve better results on your journey to English fluency. Of course, this is an excellent book and you should use it. But be strategic. Study some lessons, while working on your listening, vocabulary, reading, and comprehension in general. I have had this book for a very long time and I haven't finished it yet. Why? Because this book only complements my journey.
Get the book here:
Brazil:  https://amzn.to/3GOsllU
Other countries: https://amzn.to/3dSIzxF
There you have it. These are excellent books you should have to improve your English.
Teacher Prix